Highest ever attainment and progress at Orchard Park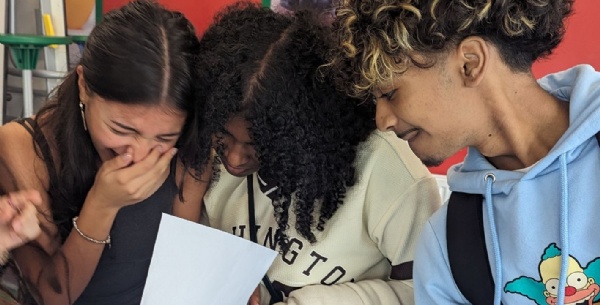 Congratulations to our Year 11 students on superb GCSE results.
Orchard Park High School has once again achieved very strong GCSE results. Within a reported national picture of lower grades, a return to 2019 grade boundaries and a cohort who have also experienced Covid-related disruptions to their education, we are extremely proud of our students. Our community obtained results that are significantly higher than our pre-pandemic outcomes and our highest ever attainment and progress.
Carly Moran, Headteacher, said: "I am so pleased with these well-deserved GCSE results.They are only possible with hard work from students and staff, along with the support of our families: well done to you all! We should not underestimate the challenges this cohort has faced over the last three years: their determination and expert guidance from their teachers has secured this success. We will miss this special group of young people and wish them the very best of luck for their futures."
Achievement in English and Maths has remained high, with the percentage of students achieving a Grade 4+ in both of these core subjects continuing to be very strong. A range of other subjects including the sciences, geography, languages, drama, music and PE also performed superbly.
We are proud of all students' achievements, but a special mention must go to those students who have achieved the best progress and achievement scores in the school. Joseph, Abi, Remus, Eva, Mark, Sophie, Zacahi, Jackie, Aimee and Levi who achieved the highest grades in several subjects. The following students have made exceptional progress; Grace, Inara, Avangeline, Bhavesh, Daniela, Georgeet and Jada.