Tales of the river bank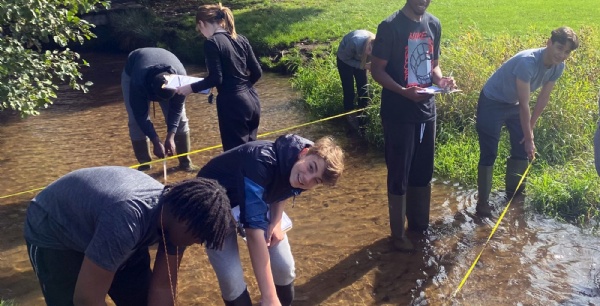 Our Year 11 geographers headed to the River Tillingbourne to complete their field work.
This term, Year 11 geographers visited the River Tillingbourne in Surrey to conduct their GCSE physical geography fieldwork. Students were investigating the enquiry question: 'How does the discharge of the River Tillingbourne change as you move downstream?'. In the wonderful sunshine, students carried out several primary data collection methods at three different sites, including width, depth and velocity.
Year 11 geographer, Plamena, said: "My hypothesis was that the River Tillingbourne's discharge will increase downstream. This is because in class we learnt that more tributaries join the river in the middle course. In addition, we would expect the width and depth to increase, therefore the river can hold more water. From my data analysis, I was able to conclude that my hypothesis was correct. Overall, I enjoyed the field trip to the River Tillingbourne because I now understand rivers a lot more due to seeing river processes in real life."
The geography department would like to commend the Year 11 students for their hard work during the field trip and extend our gratitude to Mr Fallon, Mr Wright and Ms Byrne for their brilliant support throughout the day. We look forward to completing the human geography fieldwork enquiry with Year 11 next half term.
Ms Coupland, Head of Geography