Hiring our Facilities
We are pleased to offer our facilities for hire during the School holidays and outside normal school hours. Our facilities are enhanced by a full range of supporting services all at great rates.
Orchard Park High School is an ideal venue to host a wide range of events and activities from conferences and seminars to sporting activities, musical events and private parties.
Why Hire Our Facilities
Orchard Park High Scholl sits in the leafy suburb of Shirley, with excellent transport links from London and surrounding areas, making the school an ideal location to host an event. The school sits in approximately 12 acres of highly versatile grounds and playing fields with a beautiful outlook, perfect for hosting wedding parties or receptions.
Our Facilities
We offer a wide range of facilities; these include our sports hall, sports fields and drama hall, School library, dining hall and a full range of furnished classrooms.
Facilities also include;
Free accessible parking
ICT equipment
Refreshments
Wheelchair Access
Accessible Toilet
Disabled Parking
Disabled Lift
Classrooms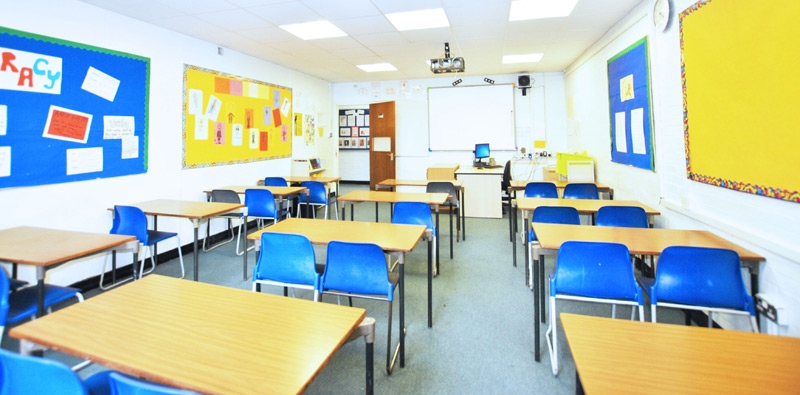 At evenings and weekends we offer a range of smart classrooms that are suitable for meetings and small classes of up to 30 people. All our classrooms are equipped with a PC and data projector, with many now available with interactive whiteboards.
Measurements: Average size 459 Sq ft
Capacity: 30 people
Conference Room
A newly built, versatile venue for conferences, seminars and meetings. This facility can be opened up to accommodate larger numbers or can be transformed into two smaller areas to hold smaller events. Included – conference tables, Tea/coffee and refreshment facilities, are available. Interactive facilities include projector, whiteboard and speakers. Please Note this room can be partitioned in to two rooms.
Measurements: Each room measures 551 Sq ft
Capacity: 60 people
Drama Studio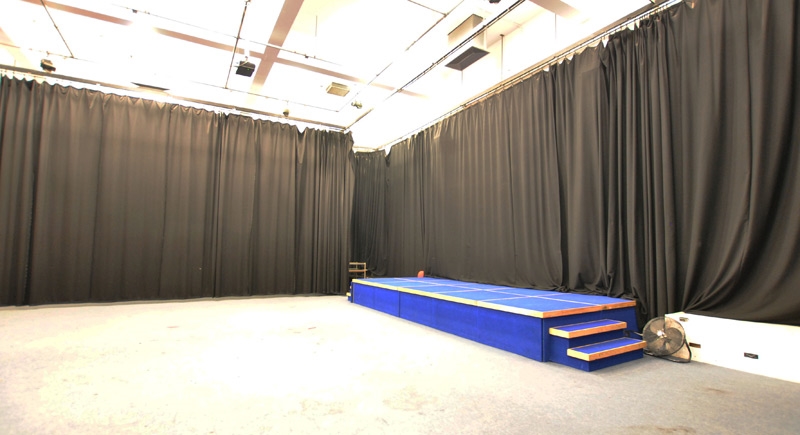 A perfect space to host performances, special events, exhibitions and conferences.
Facilities include professional lighting, stage, a blackened back wall and curtains as well as a lighting/sound balcony.
Measurements: 1804 Sq ft
Capacity: 50-70 people
Gym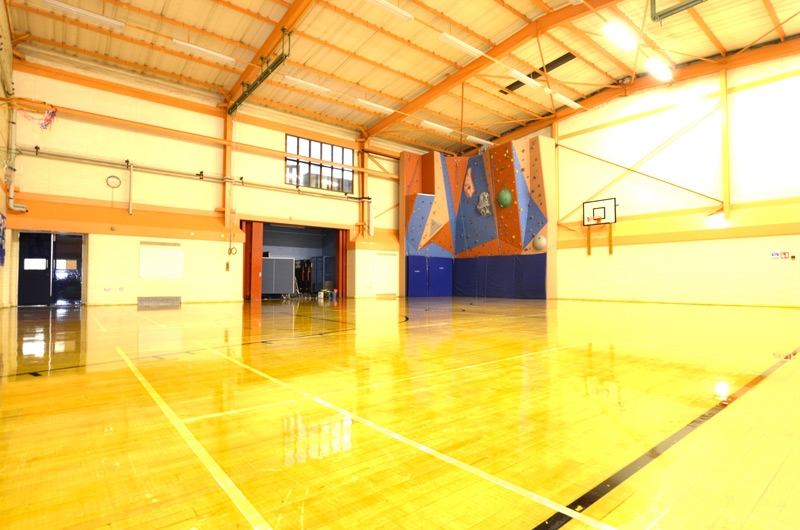 Offering a large multi-purpose space, the gym is a perfect venue to host most sports and activities including gymnastics, keep fit classes and soft ball activities. Thinking about hosting a children's party? The area offers plenty of free space for children to run around and enjoy our sports facilities. Male and female changing facilities are available.
Measurements: 3080 Sq ft
Capacity: 100 people
Playing Field

Our extensive grounds include a playing field with two football pitches, one full size pitch 295 x 60ft and a smaller pitch 296 x 192ft. The playing field can be used all year round to play a variety of sports and activities. Rugby, soccer, netball, softball, hockey, tennis and cricket are just some of the sports that can be enjoyed here.
Measurements: As above
Capacity: 100 people
Sports Hall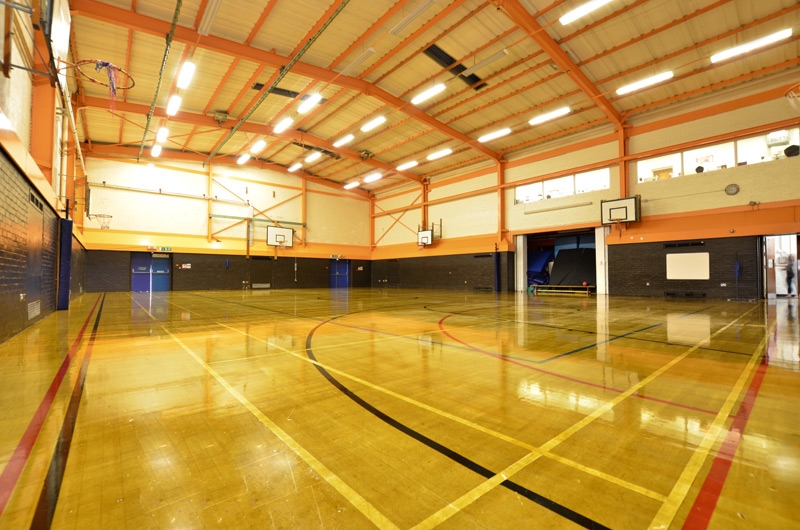 Offering a large multi-purpose space, the sports hall is a perfect venue to host most sports and activities including basketball, five-a-side football, netball and badminton. A traditional score board and clock provide a perfect opportunity for tournaments such as dodgeball. Thinking about hosting a children's party? The area offers plenty of free space for children to run around and enjoy our sports facilities. Our gym is also available to hire. Male and female changing facilities are available.
Measurements: 4015 Sq ft
Capacity: 250 people
Dining Hall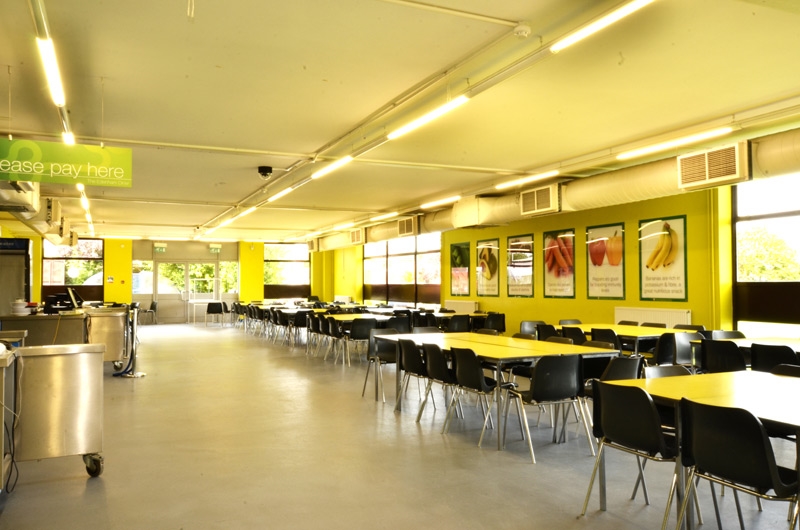 Our dining hall is a large airy space that overlooks our school playing fields. Suitable for group activities, events and meetings, hire includes the use of tables and chairs.
Measurements: 2656 Sq ft
Capacity: 50 people
Library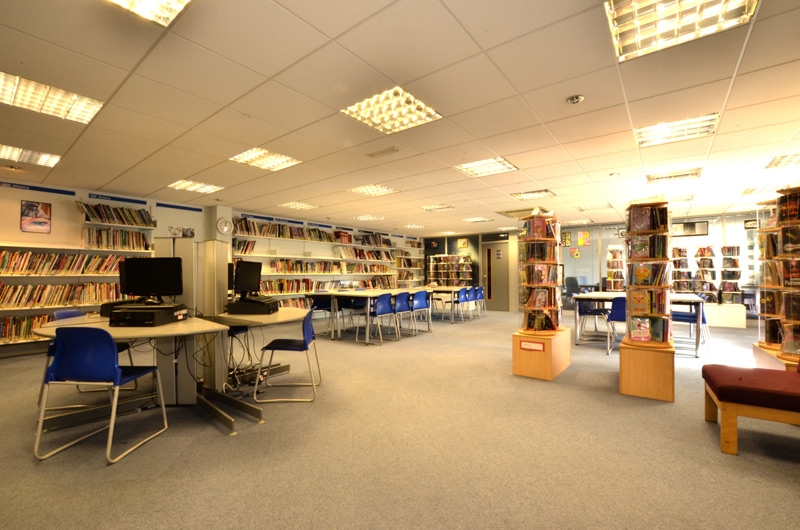 Our library is a large multi-purpose space that is ideal for hosting meetings, training sessions and conferences. Fully furnished and equipped with computers, interactive screen and air conditioning.
Measurements: 3424 Sq ft
Capacity: 50 people
Bookings and Contact
If you require further information, would like to arrange a visit or to check room availability:
Please contact the school: