Curriculum Overview
Orchard Park High School provides an enriching curriculum that fosters wisdom and confidence in our students, by empowering them to think about the world beyond their own, make changes on a local and world stage and engage in the great conversations of society.

Our students are aware of themselves as being in a continual state of knowledge formation and engage deeply with the most pivotal contributions to human achievement. They take joy in studying a wide range of subjects and are aware of their responsibilities as knowledge bearers of the future.
We believe strongly in offering students a broad range of subjects to match their interests and prepare them for future study. We encourage students to pursue the rigour of English Baccalaureate subjects where possible and avoid limiting students' access to these. The needs of all learners are met. Students with Special Educational Needs are identified early, where possible, and are supported to access the curriculum at each stage.
We value regular assessment to understand students' learning and support them. This takes many forms including skilled pre-planned questioning and regular mini-white board activities in lessons, multiple choice quizzing and more formal written and performance assessments. Opportunities for and timing of assessments are planned in departments and are therefore consistent for all students.
Curriculum Offer at Key Stage Three
We operate a two-week timetable with 25 periods a week from Years 7-10 and 30 lessons a week for Year 11. The subjects we offer to each year group are as listed below.

The day is structured as per the table below, with each year group starting the day with roll call and a bespoke tutor reading programme for Years 7-10 and an additional lesson with a subject specialist for Year 11 during tutor time and period 6 each day. We also offer a Champion's Hour to support Year 11s develop lifelong study habits in a designated Silent Study Centre, purpose built for Year 11s to use before and after school and during lunch time.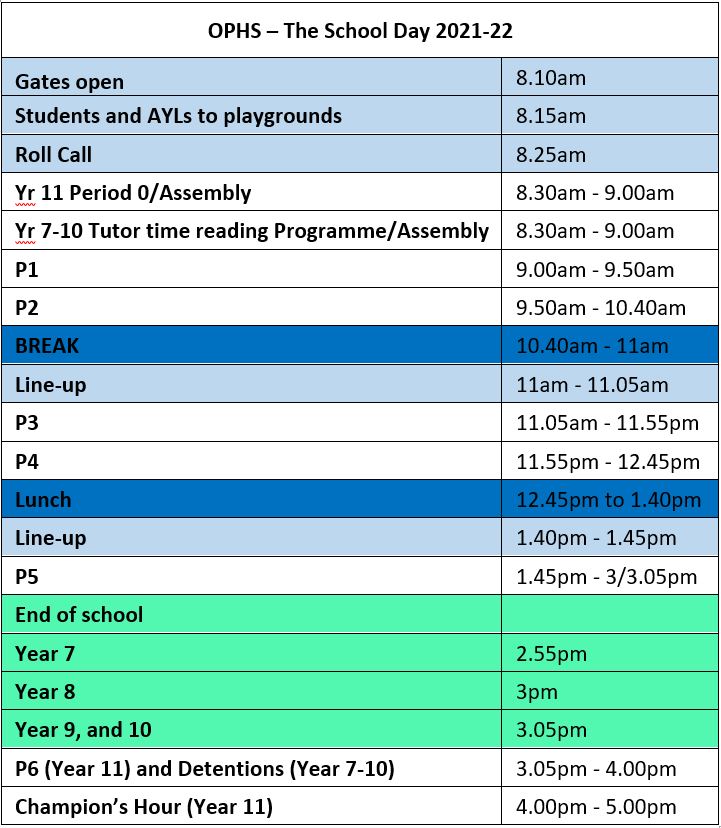 Curriculum Offer at Key Stage Four
We firmly believe that giving students choice in deciding their options will prove motivating and will ultimately help them to be successful. Our option structure is broad and relevant, offering exciting routes to further study at post-16, higher education and into employment.
We aim to offer students the opportunity to take 9 subjects in Key Stage 4: 6 compulsory assessed subjects, 3 options and three compulsory subjects which are not assessed but integral to maintaining a broad and balanced curriculum.
The options process starts in March of Year 9 where an Options Evening is run for parents and students with a full booklet guiding students through such a key decision point.

Curriculum Maps
Please see below for individual subject curriculum maps.